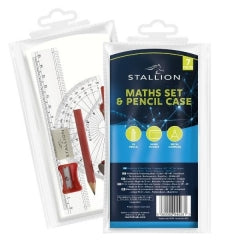 Stallions - Geometry Maths Set In Pencil Case (UBNP3074)


The Maths Set in a Pencil Case from Stallion® is premium quality, designed for use at school, university, and more.  With a strong metal compass, mini dust-free eraser, and much more, this quality selection of stationery tools is perfect for mathematics.  This maths set is packaged in a durable clear pencil case, which includes a useful extra inner pocket for safe, neat storage.
Product Size: 20.5 x 10.5 x 1cm

Weight: 65g

Contents: 1 x  Compass, 1 x Small Wooden Pencil, 1 x Small White Eraser, 1 x Sharpener, 1 x 15cm Ruler, 1 x 180 Deg' Protractor, 1 x 45-45 Deg' Set Square

Other Features: Strong Metal Compass, Dust-Free Eraser, Silver Foiled Logo on Pencil

You can view our entire stationery range here.